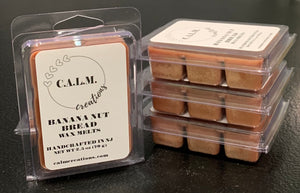 About This Fragrance
Our nostalgic Banana Nut Bread fragrance captures the mouth-watering bakery aromas of a homemade classic. Top notes of toasted walnut and ripe banana combine with nutmeg and sugar for a blend that's perfectly nutty and sweet. Vanilla and cake base notes enrich the sweetness in this toasty scent.
This fragrance is infused with natural essential oils, including cinnamon leaf, nutmeg, orange, and lemon.
Note Profile:
Top: Banana, Walnut, Lemon Peel
Middle: Nutmeg, Sugar
Base: Tonka Bean, Butter, Vanilla
Specifications
Size: 6 piece Clamshell
Net Weight: 2.5 oz (70 g)
Type of Wax: Soy